Welding Equipment Customer Reviews
Don't just take our word for it! This is real feedback we get from people who own R-Tech equipment. More reasons to choose R-Tech...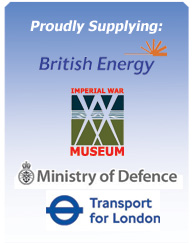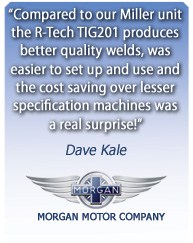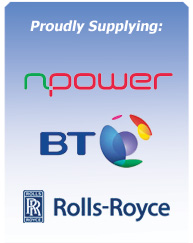 ---
Excellent welder and service. Ordered with a water cooler. Both items excellent. Easy to setup and use with quality and features that you would pay a lot more for on the big name welders.
---
Bought this machine along with the P30C plasma cutter and Fiac 100L compressor and all are excellent for the money. The customer service Ive received has been brilliant regarding any technical questions and organising a specific delivery date, Thank you R-Tech
---
Was recommended this by Doubleboost on YouTube and I'm glad I bought it . It welds nasty crank cases with the triangular wave almost infinite pulse settings make things to much nicer. Better than my old square wave ac machine, and this baby is so movable compared to my old machine, I have room for another bike...lol. Apart from having to fit a 32 amp supply I should have bought an inverter machine years ago. It's made me a better welder ( or look like one!) Can't stay out of my workshop, but running out of things to weld!!
---
Very good machine, quality look and feel. This is my first plasma cutter and is easy to set up and use thanks to the manual enclosed. I looked around for a long time, and yes there are more expensive and a lot cheaper out there but am very pleased with this company/model. The technical support is also second to none.
---
Really nice product. Good value and goes together easily. It makes a very sturdy bench for the type of work I am using it for. Great that it can be folded as I have limited space.
---
Great product. Being new to TIG I have been very pleased with R-tech's speed of delivery, helpfulness and communications. Dylan has been particularly good.
---
Well made, nice to use. To be recommended.
---
Great product, ideally suited to keeping kit together.
---
I've only had it for a month or so but very impressed already, excellent performance and seems well built (apart from the flimsy plastic panel cover). The memory function is very useful, just a shame it doesn't default to your last settings when your power it up but I soon get used to saving a preset when necessary. Pedal is nice to use if a little light for my taste, but it's just a minor gripe. AC isn't too noisy, and the HF start is strong and reliable. Delivery was next day, very impressed with R-Tech.
---
Bought one of these after an old helmet gave up the ghost! Technology must of Improved a lot in the last ten years as this makes welding so much easier.
---
After doing lots of research trying to find the right welder at an affordable price I decided to go with the r-tech 250 amp... and it didn't let me down. It welds well and am loving being able to take it out on jobs with me rather than an arc. I still am waiting on a spark to come an fit a 32 amp socket but I still have great use of it on a normal 240 13 amp socket and its great known it will offer even more at a higher ampage. its welding 3mm plate at approximately 500mm long and box section with ease. Its welding every bit as good as our 3 phase Cebora welders at work. Hopefully this will help some of use researching welders a bit as I know how many hours it can take before you finally make your mind up.
---
I purchased my TIG Digital AC/DC 260 Amp a couple of weeks ago. My journey started with a huge amount of internet research, looking at various manufactures specs, prices and reviews. The first thing that I noticed was that trying to find a machine with the features of the R-Tech TIG Digital AC/DC 260 Amp was almost an impossible task. Some of the comparable machines from other manufactures were twice the price or more. I found the Double Boost videos very helpful and informative. Can I please thank Daz and Dylan for their patients and superb customer service in helping me put together my final package which included the WC240 water cooler and a WP18 torch (8m). This is a really great combination. One slight criticism in relation to factory fitted hose crimps on the water pipes - most of them leaked, but swapping them for new clips soon sorted this. So far the welder has performed supremely - the duty cycle is fantastic. Once more R-Tech has come up trumps - fantastic quality product and a level of customer service that outstrips all the others.
---
I bought this cutter as part of a TIG package that Dylan put together for me. I had set out to buy a TIG set but then the ghastly realisation set in. What am I going to cut with? NOT the angle grinders all the time arghhh. So I did some research on plasma cutters. As I am retired I am not looking for an ultra expensive production machine, but I have my doubts about the oodles of Chinese machines on the market. What happens about the spares and support. So after very long calls to Dylan, and many thanks for your time Dylan, and the video review by Mr Twastard, I love his videos, I settled on the 50 amp machine. Here we enter a problem as we have a domestic 3 phase supply (common in rural France where I live) and the spec says 32A which is way beyond one of my phases. I can only say the pre support by R-Tech is incredible. I phoned up and talked to Robert who went through the supply side problem and my cutting desires and I have ended up with the 30 amp, which only needs 13 amps max. So the order was modified and a few days later my packages arrived by UPS undamaged in perfect state visually. Everything was inside the cutter box so I started the hook-up. Slight problem as the airline connection is a different one to those used here or my Dewalt air equipment that I brought out here many years ago. Rather than remove the fitting I bought some 17/10 mm airline and slipped it over the fitting and tightened it up with a clip. The other end having what for me is a normal air line connection. So I put a plug on the machine, set up some scrap 3mm thick box and played. Wow, it is magic and clean cuts. I tried a straight edge of some oak I had trimmed on the table saw and the result a perfect straight line. As soon as my workshop is a bit better set up I can start for real on my repair projects I need the cutter and TIG for. I should add that the 2 year guarantee collect and deliver with 2 year extensions available has played also a large part in my choice. A company that is prepared to deliver that level of service to the man in his home workshop besides the corporate household names, deserves the business and has real confidence in its products.
---
This welder replaced my trusty Miller Dynasty after it failed and the repair bill was very expensive (close to the cost of this machine!). I was sceptical at first as I loved my Miller, however after reading the positive reviews and watching the videos I took the jump and spoke to R-Tech, they were never pushy and answered all my questions in detail, they know their machines! Wow is all I can say, In AC mode the arc is as good if not better than the Miller and the HF start very crisp. I have not used the extra AC waveforms yet as had some jobs backed up, but looking forward to having a play with the extra features. Well Done R-Tech, I will be recommending you to my friends.
---
I'm not great with saying compliments but I'm delighted how the company looking after customers... I'm impressed what that little looking welder can do. 100% Thanx a lot...
---
Never owned a plasma cutter before but soon realised I needed one , already owning an r tech ac/dc tig welder I knew an r tech plasma is the way to go. Prompt delivery and well boxed. Had it 2 weeks now and its being used regularly, couldn't be without it now! Quality machine and great cuts on 6mm steel. So simple to use and I certainly recommended this machine. Thanks again r tech !
---
I have been hobby welding for forty years (arc, gas and MIG). I have owned only cheap welders in this time as I could never justify the cost of an expensive one. Now at last, a highly versatile and competent welder that does not break the bank in the R-Tech MIG180! My forty year old arc welder and twelve year old budget MIG are now in the bin. Highly recommended!
---
after getting recomended r tech by a freind, i decided upos getting the 201, as a beginner it is a great machine and i am getting on well. i purchased a shop soiled version but when it turned up i failed to see anything wrong with it, a great service and a great company.
---
What a little beauty..!!!! Very pleased with it thus far, it has done every thing i have asked and for its size it's absolutely brilliant. Using it at the moment to fabricate chassis parts and repairs for a series III Land Rover. Very forgiving for a novice welder, like myself....
---
Good lightweight alternative for smaller jobs.
---
Very good product
---
Feels a bit flimsy but for all that it went together easily and does the job. Instructions not as clear as they might be and the method of joining screens into a curtain not explained at all. 1 too few zipties to attach the actual screen. All niggles rather than absolute problems. It really does do the job so value for money rather than the best you could get.
---
Got 2 projects to finish vw t4 and a vauxhall astra mk1
---
The item received was just what I needed.
---
Good
---
Good
---
Good
---
Good
---
Good
---
Good
---
Good
---
Use it for a hobby. Build quality is very good.
---
Good instruction manual which is important as I'm a beginner at Tig welding. Controls are straightforward and appears to be good quality.
---
Good value for money. Good quality as well.
---
Good value for money. Good quality as well.
---
Good value for money. Good quality as well.
---
Good value for money. Good quality as well.
---
Good value for money. Good quality as well.
---
Great welder very pleased
---
The best yet
---
Nice gloves
---
Great deal
---
Fast postage
---
Very good
---
Very good
---
Very good
---
Very good
---
Top quality item, delivered quickly and efficiently by UKMail
---
A good grade of rod flows well and penitrates with ease.
---
Will be used for trailer repairs and modifications at an amateur level. Well worth the money even for an amateur like me as the quality of welds is so much better than using a transformer welder
---
Most satisfied with the performance of this procuct.
---
The order and delivery aspects were good but I have not had the opportunity to use this product yet.
---
Bought this with my mig 180 as needed I new helmet I have used the Lincoln electric basic one with only two sensor's and cheap Amazon pro weld one with lasted only 3 months anyway for the price you carnt beat it your getting a helmet that should be £115 for nearly half that it is the best helmet I have used great field of view top quality plastic and headband you couldn't ask for more the only complaint I have about it is the grind button it would be very is to switch to grind mind and forget your in it and flash your eyes as its just a button not a flip switch witch would be more ideal but just looking at a light before welding and switching it of and on will tell weather its still in grind mind.
---
Have had and been using the TIG160PDC for over 2 years now, faultless performance, very pleased. Just taken the next step up and ordered a TIG161 AC/DC unit for aluminium welding, I'll post a review on that soon. Also own a P30C plasma cutter, that too is brilliant kit.
---
This is the second such pump we have bought; the last one is still going strong after about five years. They are reliable, efficient and tremendous value, especially at the excellent price from R-Tech. We have to leave ours outside in all sorts of weather and they still start and run. That's why we bought another one the same.
---
Handy connector from a regulator to small mig welder has pipe. The small end did not fit mine but as the pressure is low I simply push fitted some pipe on which works great
---
Bought for home use as an upgrade to my hobby mig welder and if does the job perfectly
---
Great value for your money , have used many makes of welders over the years and the features this one offers can not be bettered.
---
Very very pleased with the welder and excellent service , rtech will go from strength to strength , very good customer relations ,and the good old fashioned ethics speak for themselves.
---
excellent
---
Excellent service and would highly recommend. The buying process and after sales cannot be faulted.
---
All Good\nWorks well and of first class quality.
---
Bought after watching Twastards review - happy to report I am very happy with the result, delivery and service.
---
Very good welder ,would recommend for beginners and pros alike . \nHad a cheapo diy mig welder (cosmos) and just could get a decent weld consistently Set this up and from start pro looking welds , have used to weld the chassie of my landy and a few at her bits and bobs . \nWell worth paying for a quality machine . You get what you pay for .
---
Used to give precise control of the welding amps on my TIG Welder. Did not look shop soiled. Excellent service and on time delivery.
---
Product good quality and price.have not used yet but will post comments when used
---
Have not yet used product but quality is good or looks good.will post comment when used.
---
Good quality item.
---
Good quality item.
---
Good quality item.
---
Good quality item.
---
Item as described and good quality
---
Item as described and good quality
---
Item as described and good quality
---
Great product.
---
Good quality wire nice clean welds,good do with better packaging cause the plastic rim was broke butt worked fine
---
Highland gloves than the cheap red ones you would normally have
---
The machine is awesome and looks and feels and performs just as good as more expensive welders.
---
Great quality
---
Great quality
---
Great quality
---
use product just for home hobby .product very good and very good price.will be buying here in future.A1 SERVICE ALL ROUND.
---
recomend products to family and work friends.
---
Excellent product
---
Does what it says on the tin. Good value
---
Use for classic car restoration great machine with fine control and consistent wire feed
---
The welding cart came with a couple of bent panels and powerdercoating missing in a few places a little disappointing if i am honest but still usable
---
products excellent
---
Great bit of kit. Good quality and great value. Spent all day welding and it never once missed a beat, very good duty cycle. Very portable and light weight.\n
---
quality product, easy to use, multiple settings and fucntions, perfect for a range of welding techniques.
---
good value
---
Quality materials, quality build.\nA flexi-head and a ball and socket connection between the hose and torch give you comfortable manoeuvrability with out having to wrestle with the hose.
---
All the bits you need, and a quality case too.\nExcellent
---
weld yes
---
business any one
---
No problems
---
No problems
---
No problems
---
No problems
---