New R-Tech Mig Welder 450A Inverter With MMA & DC Tig - 415V
This entry was posted on June 15, 2016 by admin.
We are pleased to announce the launch of our newest MIG welder into the R-Tech range of machines.
The MTS450SWF Inverter MIG, MMA & DC TIG welder features a high 60% duty cycle, separate wire feed unit with 15KG reel capacity, heavy duty trolley and MIG wave adjustment for fine control of welding arc. Ideal for maintenance, automotive and heavy fabrication welding.
The MTS450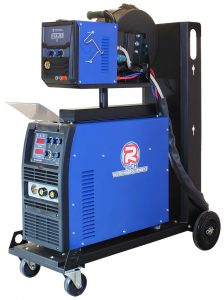 has a separate 4-Roll geared wire feed unit which provides a consistent weld bead. It also provides very smooth low splatter welds on all steels and aluminium due to its inverter technology.
It will weld from as low as 40 Amps in MIG mode all the way up to 450 Amps, and then from 20 Amps to 450 Amps in TIG DC mode making it extremely versatile.
The  R-Tech MTS450SWF MIG-TIG-ARC Welder comes as a complete package with a 3M MB36 Air Cooled MIG Torch, an earth lead, an MMA lead, a gas hose, mains cable, a gas regulator and a torch consumables kit.
For more information please click the link below: